A piece of contemporary jewellery is more often than not like a wearable miniature sculpture. It can be anything from simple and discreet to pretentious and flashy. But it may even be an unwearable object. The key point for a piece of contemporary jewellery is to somehow relate, to have a connection to the human body.
The need for people to decorate and adorn themselves has been recognised. People have always shown their status, ideology and persona by wearing jewellery and embellishments. Nature has shown us the example with the colorful courtship of flora and fauna.
Contemporary jewellery can detach from the body ideologically. In a more concrete way, one can just take the piece off from the body and place it on a table. But even on the table or on jewellery stand the piece is still a work of contemporary jewellery. Contemporary jewellery is a relatively new form of art, even though jewellery in itself is ancient.
You can download a digital jewellery art guide, published by the Jewellery Art Association in Finland from here: jewellery art guide. My portfolio here starts from the first jewellery I made when I was 9 years old, not knowing that later I'll study to become a bachelor of jewellery design and dive in to the world of jewellery with passion. After the first piece I introduce my latest works and concepts and update it when I develop and create something new.
October 10th, Day of Jewellery
The Jewellery Art Association in Finland has named October 10th Day of Jewellery.
Korun päivä in Finnish, since 2013. It is easy to participate. Take your jewellery from your hidden places and wear them anywhere you go. Delight people around you and yourself with the stories that are connected to your jewellery.
Once a year at the Day of Jewellery I wear my first ever made piece of jewellery; the brooch I made for my grandmother in year 1995. It reminds me of her and my childhood and inspires me to be free to create art. By research this piece the Järvi serie was born. Brooch I made for my grandmother when I was 9 years old. The colors I chose for her takes me back to her garden. This piece I use in the day of jewellery 10.10, to embrace the memory of grandma Irja and to celebrate the continuous of my work and life on earth.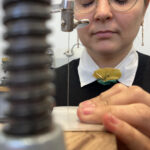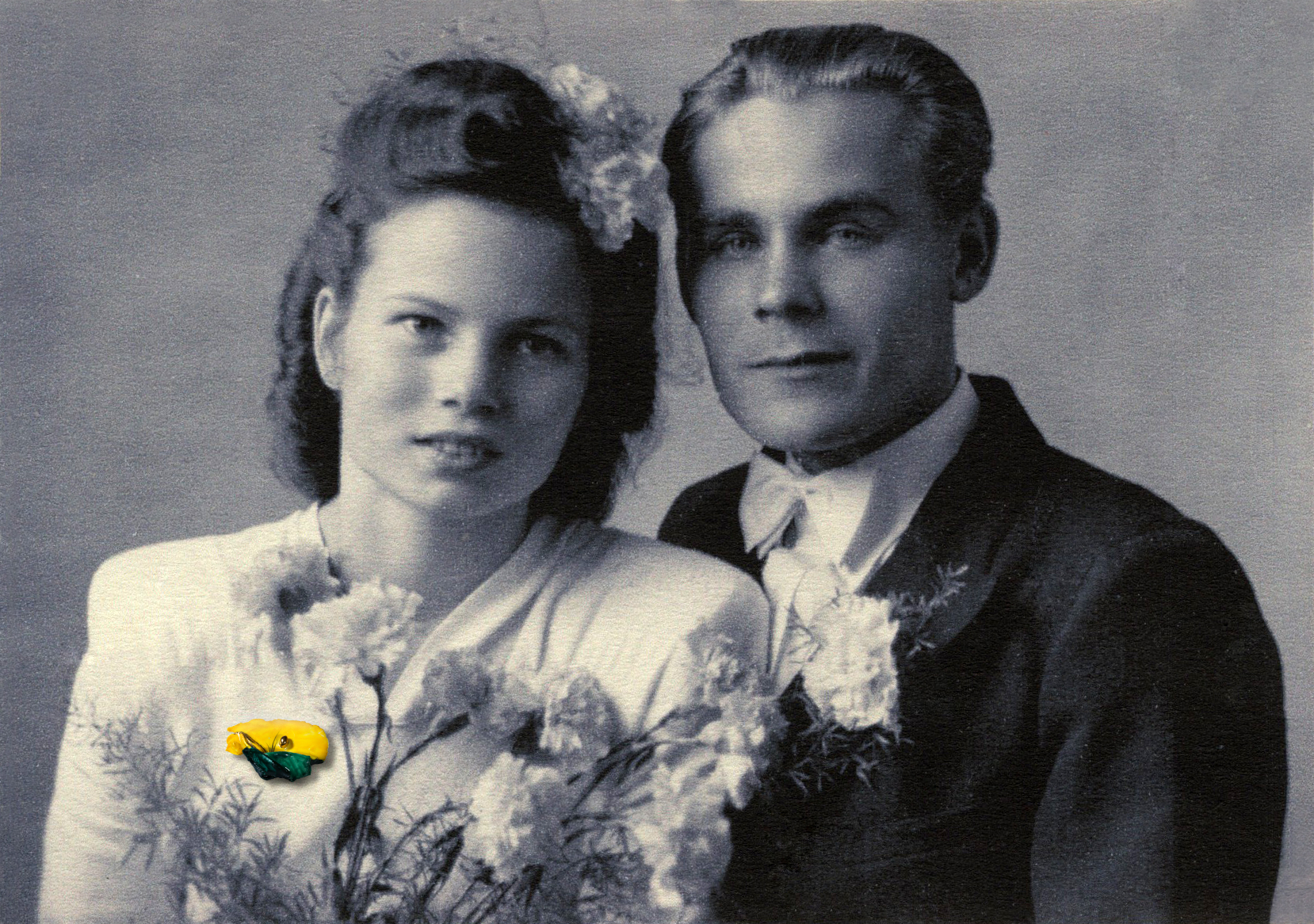 Pray
Pray is creative co-work with ceramist Paula Ruuttunen. Paula made the teapot and I made the handle for it. I explore the journey of the soul and the meaning of it and Paula gives soul to her works through her hands. The soul represents the strongest value of mine, the emptiness. Both of our works are strongly body related. I find the art of jewellery body thinking and exploring the body, Paula's ceramic pieces are sensed through body and the body is a concept in the art of pottery; the container of the pot is called body.
Paula wishes that her art pieces are part of the everyday life, they are functional decorators that are meant to be in use. Jewelry art does not necessarily always mean a wearable object, I play with the function of jewellery art.
Collection for the lonely
Collection for the Lonely was completed in the spring of 2020, when in 2019 I explored heart as an organ and symbol. From the bottom of my heart, a painful subject rise on my mind, loneliness. For all the lonely in the world; kisses, hugs, conversations, and a presence are gathered in the Collection for the lonely.
Stop for a moment and give your thought to eliminate loneliness. We all experience loneliness sometimes, lucky ones less than others. Participate in collection by giving a moment to someone lonely or think globally of all the lonely and pray for relief. If you are interested to rent or buy the piece kirsi@littlebigwoman.fi / 050 343 8373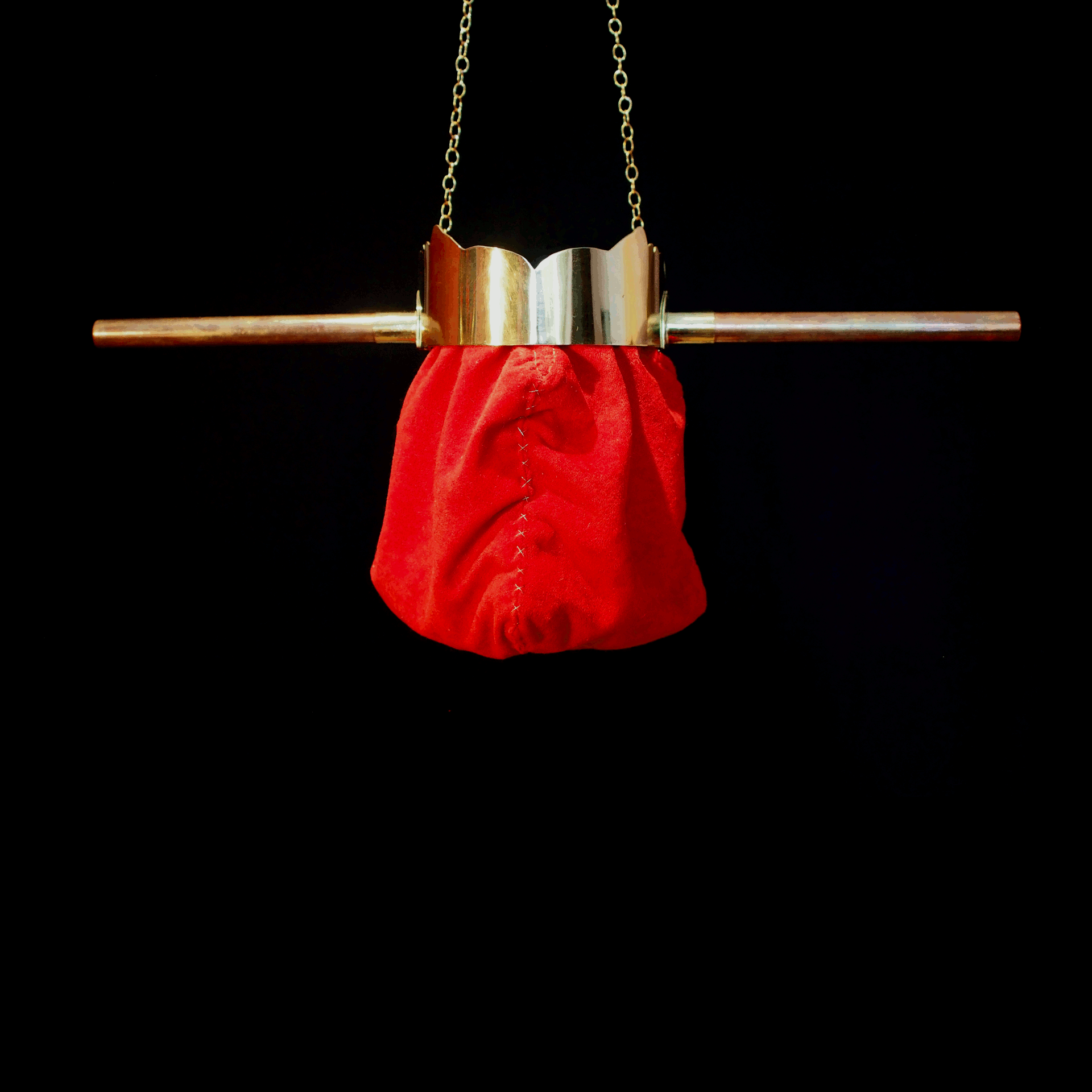 Faceless icons
The faceless icon is my research work from our time. This work is in the development stage at the level of thought, through which I pondered why we iconize people. For me, trees and the surrounding vegetation and natural diversity are greater objects of worship than people and I try to merge people back into a part of nature, from which we have become somewhat estranged. Faceless icons embody intangible jewelry through matter. I bend and saw faceless icons until I understand this selfie culture time we are living right now. Sometimes these icons kiss and they are my prayers for kisses that heal the world, I call these The moment before the kiss and you may buy one unique pair from here.
A badge for a good lover
Love conquers everything and good lovers deserve a Medal of Merit. This work, also, was born when I studied the heart as an organ and a symbol. The heart is the emperor of our body and the kiss is the sacrament of the heart.