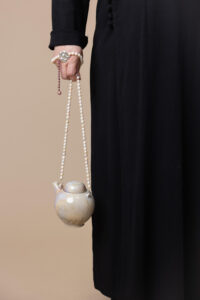 Exhibition with ceramist Paula Ruuttunen at Täky Gallery, Lappeenranta in June 2021.
The headline of the exhibition Soul, body & function indicates both of us ideology and work. Ruuttunen gives soul to her works through her hands and I explore the journey of the soul and the meaning of it. The soul represents the strongest value of mine, the emptiness.

Both of our works are strongly body related. I find the art of jewellery is body thinking and exploring the body, Paula's ceramic pieces are sensed through body and the body is a concept in the art of pottery; the container of the pot is called body.
Paula wishes that her art pieces are part of the everyday life, they are functional decorators that are meant to be in use. Jewelry art does not necessarily always mean a wearable object, I'll play with the function of jewellery art.
We both work with joy of our hearts and we hope you'll have fun when you visit our exhibition! Welcome to see what happens when we work together!
Soul, body & function 2.-29.6.2021
Address: Satamatie 10, Lappeenranta
Open Tue-Fri 11am-5pm, Sat-Sun 11am-3pm